There are some books that everyone you know is reading and in love with. Eleanor and Park is one of those books. You can't go on Tumblr without seeing a quote or fan art from/do to with this book.
This was one book I had no choice but to read.
And after reading it I see now why everyone is so in love with it. It is the kind of book that steals our hearts and makes us stop.
In this book I found so many much needed lessons. and saw things in life more clearly.
Trying to find a place to start when talking about how good this book is...is almost impossible.
Eleanor. Lets start off with her. I think the best way for me to put it was that she was thing that made this book. The reason I say that is without her none of the wonderful things would have come into play.
Now I will not go in to to much detail in because it might spoil the book. But I feel like Eleanor's story had so many things to teach us. The first being never judge a book by its cover. Or in this case a person by their clothes.
The next it told us was that everyone is fighting their own battle so don't be so fast to jump on them. You never truly know what is going on. And it reminded us just how many teens boys and girls have hard family lives. It's something that we hear about all the time but very few of us ever do anything about.
The last thing I love about Eleanor is that she is not a girl who thinks she isn't beautiful but really she is. She is beautiful in the natural everyday way. She is beautiful with her imperfections. And I love that. When the rest of the world is telling girls to be little sticks here is a girl who falls madly in love and is beautiful just not in the way that girls online or in adds are.
Alright that went on a little long but there is so much to still I want to say on Eleanor.
Anyway on to Park. I love him because compared to Eleanor he lives life pretty normal but there are still some small things in his life that pop up.
What I love most about Park was here was a guy in YA that was real. He felt human. He thought at many points like a teenage guy does. And I loved it!
Another thing I loved about this book was the love story. How it was not a right away thing. How it was slow and awkward and natural. How it was open and fragile at times.
This is a book that I feel everyone should read because it is breathe taking and beautiful. Please take the time to read it.
( YA- 15 and up - Swearing and some fighting and abuse.)
Stars: * * * * 4.9 LEVEl: As Sad As It Is Hopeful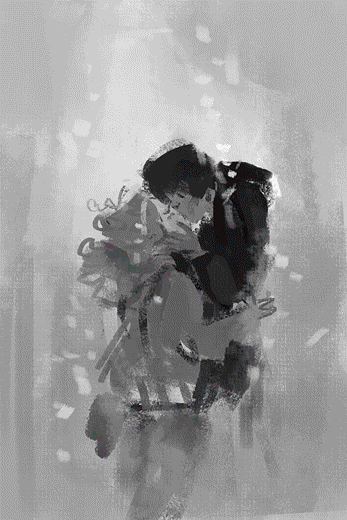 I had to share this beautiful art.